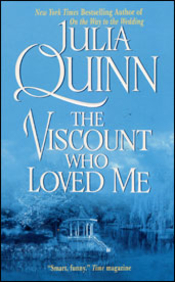 Vilka böcker? Del ett och del två i serien om Bridgertons, The Duke and I och The Viscount who loved me av Julia Quinn.
Var har jag fått tag på dem? Lyssnat i beställd ljudbokstjänst.
Vad handlar böckerna om? Det här är klassisk romance. I del ett är det Simon, numera duke of Hastings, med stora problem med sitt förhållande till sin far, som gör en överenskommelse med sin bästa väns syster: de ska låtsas vara intresserade av varann, så slipper Simon alla giftaslystna tjejer och Daphne kommer att få en massa nya friare när folk ser att en hertig är intresserad och kan välja en av de andra friarna som hon vill gifta sig med. För Daphne har inte fått några vettiga anbud om giftermål och vill väldigt gärna ha familj, medan Simon absolut inte vill föra ätten vidare. Problem med pappa, som sagt. Nå, Simon och Daphne hamnar i en komprometterande situation, och borde gifta sig. Men Simon ska inte gifta sig alls, har han ju sagt, och Daphne vill inte ha nån som inte vill ha henne även om hon börjat gilla Simon. Det blir dueller och grejer, och olikt ganska många romanceböcker så slutar den här inte med bröllop utan vi får följa med hur de på riktigt jobbar sig igenom problemet med äktenskap och barn. Ganska trevligt att få en romance med det perspektivet också.
I del två är det Daphnes storebror Anthony som ska gifta sig. Han tycker att han bör föra släktet vidare, men vill helst inte gilla sin brud för mycket. Han är nämligen på grund av faderns för tidiga och ganska chockartade död, övertygad om att han inte kommer bli äldre än sin far, och det börjar bli dag att sätta fart på barnalstringen, men han vill inte lämna någon alldeles för sörjande änka efter sig.  En söt, inte alltför dum tjej som gillar hans pengar mer än honom borde väl gå att hitta. Han kommer till att årets sensation Edwina Sheffield passar, och börjar uppvakta henne. Problemet är bara att Edwina har en syster, Kate. Lite äldre än Edwina, lite smartare, lite mer cynisk, lite mindre vacker enligt allmänna opinionen, och med alldeles för mycket åsikter. Men Kate älskar sin lillasyster och vill att hon ska bli lycklig. Anthony börjar försöka övertyga Kate att han har lämnat ungdomens synder bakom sig, men något händer. Han börjar drömma om Kate om nätterna. Han börjar gilla henne mer och mer. Och Kate börjar gilla honom, men vet att han aldrig kommer att gifta sig med henne, men kan ärligt sagt inte hitta några fler invändningar till att han skulle vara opassande för Edwina. Just då hon berättar för Anthony att hon kommer att gå med på att han friar till Edwina, blir de ertappade i en situation som ser minst sagt opassande ut. Så det blir Anthony och Kate som gifter sig. Och igen får vi följa med efter bröllopet, tills Anthony med eftertryck inser att han inte kan låta bli att älska sin fru, och aldrig nånsin hade en chans att låta bli att älska henne, och Kate blir övertygad om att hon verkligen inte var andrahandsvalet. Det verkar vara en grej med den här serien att vi får följa med lite in i äktenskapet också.
Vad tycker jag? Orsaken till denna massiva dos Bridgerton var att ett hus skulle målas. Nämligen det här (lägg märke till den tjusiga grå färgen som jag nästan helt på egen hand kletat fast på väggarna):
Och nära detta hus finns en massa underbara platser, som på bilderna här nedanför, och när allt blir klart kommer det här att bli ett underbart ställe att vara på, men som det är nu är det mer av ett arbetsläger..
Vad jag tyckte om Bridgertons? Helt klart mer positivt inställd än jag trodde jag skulle vara. Det är nästan så att jag kunde fortsätta med bok tre (alla de åtta syskonen Bridgerton ska giftas bort, tydligen, så det finns åtta böcker i serien plus lite novellas och så), men det blir väl nog något av en överdos ändå att ta tre böcker i en serie på raken. Jag kommer alltså fortsätta serien någon gång senare. Dessutom har jag en känsla av att det här är böcker som man ska vara romancefan för att gilla. Jag vet att Lovereads tänker ge ut de tre första delarna på svenska i höst, så de har nog tänkt att de ska locka även andra än övertygade romancefans. I övriga världen är genren "romance" något som ger en extra puff åt en bok, men det är lite tvärtom i det svenska språkområdet. Jag hörde att Bridgertons ska bli Netflixserie också, så kanske det ger den extra puffen?
Utmaningar: Jag får egentligen inte in dom här böckerna i sommarbokbingot alls på de rutor som finns. Men jag har ju den valfria. Så jag tipsar om att dricka te till den andra av de här böckerna, The viscount who loved me, för att England förstås, men också för att det förekommer en del scener med te i boken, bland annat en där teservis och allt flyger i golvet i kärleksyra, och en där te har fått lite hjälp att bilda en stor pöl på ett strategiskt ställe i en Pall Mall-spelbana.