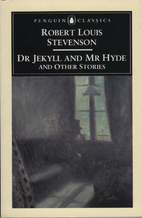 Vilken bok? Dr Jekyll and Mr Hyde and other stories av Robert Louis Stevenson.
Var har jag fått tag på den? Lånad från biblioteket.
Vad handlar boken om? Det är tre historier inom samma pärmar, den om Jekyll och Hyde och sedan två historier som utspelar sig någonstans i Söderhavet, "The beach of Falesá" och "The Ebb-Tide".
Vad tycker jag? Det var tal om Dr Jekyll och Mr Hyde på någon bokblogg i våras. Och då började jag tänka sådär som jag ibland gör, att det är ju väldigt konstigt att jag inte har läst den historien. Sen låg den tanken i bakhuvudet tills det blev sommar och jag började tycka att jag skulle läsa dels en klassiker och dels böcker av författare från Skottland. Och när sådana där tankar korsar sig med varandra, då blir det ofta så att det slutar med att jag läser en viss bok. Jag gillade historien om Jekyll och Hyde bäst, den är en ganska polerad historia och utspelar sig i London, och jag var kanske inte riktigt beredd på att bli transporterad till Söderhavet som jag blev i de två andra historierna.
Polerad historia, sa jag som sagt, och det gjorde ju att den var välkomponerad och relativt lätt att läsa- alltid bra då det gäller klassiker, men den historia som jag hade i huvudet var inte polerad och utan insikt i Hydes egna tankar. Så det blev jag lite "jahaa, är den skriven så HÄR" när jag läste. Den historien jag hade i huvudet bar onekligen på lite mer blodiga detaljer, och hade definitivt lånat drag från Hulken, samt så fick man också höra Hydes sida av historien enligt honom själv och inte bara enligt andra. Så där ser man, fast man tror att man kan grundstoryn, blir man ändå överraskad när man läser. Och som bonus bok 5/12 i Read Scotland-utmaningen på Goodreads där jag deltar.