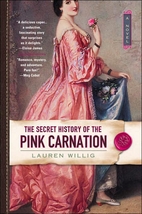 Vilken bok? The secret history of the Pink Carnation av Lauren Willig.
Var har jag fått tag på den? Inhandlat från nätbokhandel.
Vad handlar boken om? Eloise studerar 1800-talsspioner och får nys om att det finns information om en av dem, the Pink Carnation. Hon får tag i brev och dagböcker av Amy, en fransk-engelsk flicka vars far avrättats av de franska revolutionärerna medan Amy och hennes mamma flydde till England. Nu är det dock Napoleon som har makten, och Amy ska till Paris och hälsa på sin bror som hon inte har sett sedan före revolutionen. Amy tänker dock passa på att dessutom söka upp Purple Gentian, den spion som efterträtt Scarlet Pimpernel, och erbjuda sina tjänster som spion.
Vad tycker jag? Den som väntar sig väldigt mycket historia blir nog besviken. Det här är mest lättsamt och romantiskt. Vilket också betyder att det är ganska lite vikt på spionerandet, och mera på romantiken och the comic relief. Men- författaren är hygglig nog att i slutet peka ut vad hon hittat på och vad som har förebild i historien. Det här är också början på en serie, och faktiskt blir jag lite nyfiken på nästa bok, något som inte alltid är fallet. Lätt, glatt och romantiskt, det är den här boken i ett nötskal.
Utmaningar: Japp, ännu en bok vars författare jag hade med i Boktolvan! 6/12 och min plan att ha ett romantiskt läsår har verkligen fått en bra start.