Oj, det här temat tycker jag är svårt. Konst och fotografi är det som Ugglan & boken tycker vi ska samla ihop en trio kring. Jag vet inte ens hur jag ska börja tolka det, ett foto på pärmbilden? Nej, det får helt enkelt vara böcker som handlar om målningar, artister eller fotografer.
Okej, hur jag än väljer att tolka temat så tror jag att The picture of Dorian Gray av Oscar Wilde ska ha en plats i trion. Jag har läst den här klassikern, men vi skulle läsa en klassiker till nästa bokklubbsträff, så jag har börjat fundera på klassiker igen. Jag har faktiskt inte läst The Canterville Ghost, av samme Oscar Wilde. Snart blir det ju Halloween dessutom.
Faktiskt så spelade ju en tavla en stor roll i den här boken, Mörkt motiv av Louise Penny. Japp, den får komma med!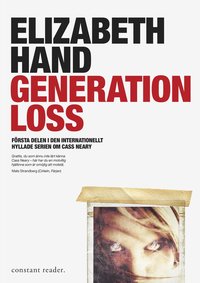 Jag tänkte att jag skulle fortsätta läsa böckerna om Cass Neary, kaotisk fotograf. Hittills har jag ändå bara läst den första.
Så jag fick i alla fall både målare och fotografer med i trion, så det känns ju bra. Min senaste fyrbok, The night mark av Tiffany Reisz, hade också en fotograf i huvudrollen men jag gillade inte riktigt den boken så därför fick jag gräva lite längre tillbaka i min läsning.