Jaha, denna vecka är temat på tematrion "röd". Det blir lite blandat, både röd pärm och röd titel tror jag. För den här boken vill jag verkligen tipsa om:
Sorcerer to the Crown av Zen Cho. "Urban fantasy" i regencytidens England. Men en lätt dos av romantik. Den här boken kombinerar liksom en massa bra saker jag gillar i böcker. Och ett underbart rött omslag!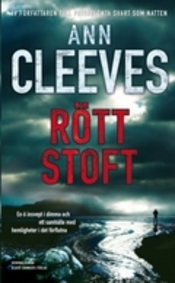 En Shetlandsdeckare passar bra vid de flesta tillfällena, även i Tematrion. Rött stoff av Ann Cleeves.
Och den första boken Simona Ahrnstedt gav ut, Överenskommelser, passar ju alldeles utmärkt på temat röd också!
Idag kommer min trio verkligen med starka läsrekommendationer!