Inte en chans att jag missar en topplista om den har tema London! Det är Johannas deckarhörna som håller Veckans topplista.
Det finns ju massor av böcker som skulle kunna komma i fråga på den här listan. Så jag gör kriterierna lite smalare (med resultatet att det bara är de två första böckerna här som skulle hamna på en topplista jag gjort annars, med lite vidare kriterier..)
Först på listan kommer naturligtvis den här: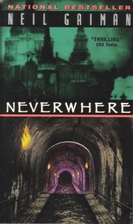 Neverwhere av Neil Gaiman. När Richard Mayhew hjälper Door, blir han förflyttad till London Below, en version av London som för det mesta är osynlig. Där Islington är en ängel, och Earl's Court är en earls hov.
Rivers of London av Ben Aaronovitch inleder en serie böcker om Peter Grant, den enda trollkarlstrainee'en Londonpolisen har, på den minst sagt lilla magiska avdelningen.
Street magic av Caitlin Kittredge. Huvudpersonen Pete kommer till älvornas alternativa London, där hon söker en flicka som blivit kidnappad.
Kiss of steel av Bec McMaster. Steampunk London, där vampyrerna har tagit över staden, och Honoria Huvudperson försöker gömma sig undan vampyrerna i Whitechapel, för hon har en hemlighet som alla vampyrer vill få tag på. (Obs! Denna bok är även en romance, inte bara steapmunk).
Matthew Swift vaknar i sin säng. Det är bara det att han varit död i två år och det är inte längre hans säng. Han vill i alla fall hämnas på sina mördare. Jag behöver väl inte säga att vi befinner oss i ett alternativt, magiskt London?
Jag är av den bestämda åsikten att London är en magisk stad.