Ugglan och boken har en kul efter-julen-utmaning som bygger på den engelska julsången The twelve days of Christmas. Jag tillbringade gårdagen i julkoma och tänker alltså köra både dag ett och två nu för att komma ikapp!
"On the first day of Christmas,
my true love sent to me
A partridge in a pear tree"
Uppgiften är att tipsa om en bok på ett av dessa teman, antingen i bokens titel eller innehåll- här valfri frukt, träd eller så rapphöns.
Det får bli en frukt, gamla goda "En doft av apelsin" av Joanne Harris. Andra världskriget genom en receptbok.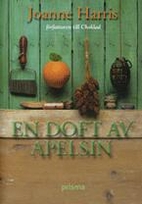 "on the second day of Christmas,
my true love sent to me
Two turtle doves
(And a partridge in a pear tree)"
Temat för The second day of Christmas blir därför turturduvor eller i överförd betydelse ett kärlekspar.
Jag noterar att jag läst väldigt lite ren romance i år. Det bör nog åtgärdas år 2017 tror jag. Men en författare som jag alltid läser är Simona Ahrnstedt, och den här vintriga kärlekshistorien är superbra. Ambra Vinter och Tom Lexington träffas i Kiruna en jul. Som den finländare jag är, får jag säga att jag helhjärtat rekommenderar bastuscenerna!