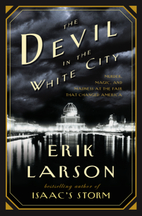 Vilken bok? The devil in the white city av Erik Larson.
Var har jag fått tag på den? Jag fick den av maken när har var på arbetsresa till Chicago. Det här var flera år sedan.
Vad handlar boken om? Världsutställningen i Chicago, och en elak typ som mördade ett okänt antal personer i samband med detta. En faktabok.
Vad tycker jag? Ja, hade den varit en riktigt medryckande bok hade jag läst den här för länge sen. Men det är en okej bok om världsutställningen i Chicago, ganska heltäckande, och sen den där seriemördaren då, som man får följa alltid emellanåt. Det är liksom två böcker, en bok om världsutställningen, byggarna, politiken etc. och en bok om mördaren, hans offer och jakten på honom. Sen har de här två böckerna mixats ihop, men det känns fortfarande som två böcker och hade antagligen bidragit till läsglädjen om de hållits separata. Men historia är aldrig fel, och jag lärde mig igen något nytt!