Neil Gaiman. Han är nog en av mina favoritförfattare, alla kategorier. Både jordgubbar och blåbär har han något att säga om, dessutom.
En dikt ska det bli idag också.
Here, There Are Blueberries" By Mary Szybist
When I see the bright clouds, a sky empty of moon and stars,
I wonder what I am, that anyone should note me.
Here there are blueberries, what should I fear?
Here there is bread in thick slices, of whom should I be afraid?
Under the swelling clouds, we spread our blankets.
Here in this meadow, we open our baskets
to unpack blueberries, whole bowls of them,
berries not by the work of our hands, berries not by the work of our fingers.
what taste the bright world has, whole fields
without wires, the blackened moss, the clouds
swelling at the edges of the meadow. And for this,
I did nothing, not even wonder.
You must live for something, they say.
People don't live just to keep on living.
But here is the quince tree, a sky bright and empty.
Here there are blueberries, there is no need to note me.
Blåbärsboktipset blir en riktig klassiker- Putte i blåbärsskogen av Elsa Beskow. Det är bilderna som är behållningen, tycker jag.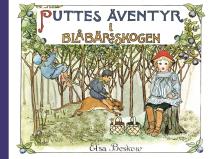 Vi ska nog ha lite musik idag också!