I år är Påsktrion helt valfri, berätta om tre filmer, böcker, godissorter, traditioner ni på något sätt förknippar med påsken!
Det var ju en härligt kravfri trio Lyrans Noblesser hade denna vecka!
Så här tänkte jag-
Först en höna.
The hen who dreamed she could fly av Sun-Mi Hwang. Den här boken fick jag till julklapp, men har inte läst ännu. Kanske det blir nu i påsk?
Sen lite choklad.
The chocolate touch av Laura Florand.
Och sen en häxa.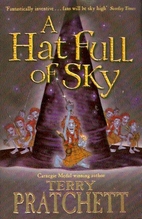 A hat full of sky av Terry Pratchett, häxan Tiffany Aching är en av mina favoriter i Discworld.